YOKO ONO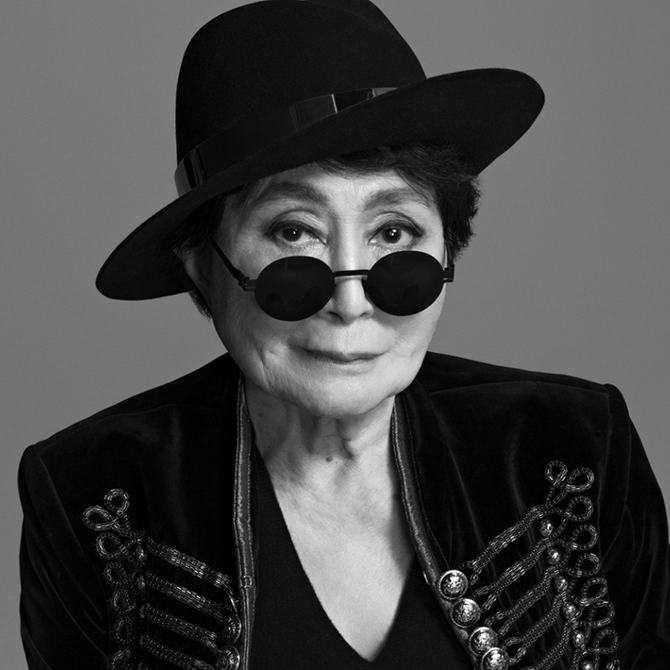 Yoko Ono, born February 18, 1933, is a Japanese multimedia artist, singer, songwriter, and peace activist. Her work also encompasses performance art and filmmaking.
Yoko Ono grew up in Tokyo and moved to New York City in 1952 to join her family. She became involved with New York City's downtown artists scene in the early 1960s, which included the Fluxus group, and became well known in 1969 when she married English musician John Lennon of the Beatles. John Lennon once described his wife as "the world's most famous unknown artist: everybody knows her name, but nobody knows what she does".

In 1989, the Whitney Museum held a retrospective of her work, Yoko Ono: Objects, Films, marking Ono's reentry into the New York art world after a hiatus. Over a decade later, in 2001, Y E S YOKO ONO, a 40-year retrospective of Ono's work, received the International Association of Art Critics USA Award for Best Museum Show Originating in New York City. In 2008, she showed a large retrospective exhibition, Between The Sky and My Head, at the Kunsthalle Bielefeld, Bielefeld, Germany, and the Baltic Centre for Contemporary Art in Gateshead, England. The following year, she showed a selection of new and old work as part of her show "Anton's Memory" in Venice, Italy. She also received a Golden Lion Award for lifetime achievement from the Venice Biennale in 2009.
Over the years Rene Rietmeyer created artprojects together with several different artists.
Rietmeyer made the photos for their projects, which became limited editions. These photo were made for the Yoko Ono Project "ARISING".
Yoko Ono: "Jump out of bed, take a deep breath and be thankful for being alive on another beautiful day. You know it is a beautiful day, since you are still alive!"